Applewood Farmhouse Restaurant
An Apple a Day!
We highly recommend a stop at the Applewood Farmhouse Restaurant. If you and your family want a great, southern style meal while you're in Sevierville, you can't go wrong. We started the day with a marvelous huge breakfast and ended the day tasting several apple based wines made from the fresh apples they grow in their orchards in the back forty. Now, I may be sounding a little spirited, but let me tell you, when you step into the Apple Barn Village attraction, you will discover the real meaning of comfort and food! Need an apple for that favorite teacher?
You can find that and much more when visiting the famous Apple Barn Village. This was by far one of the highlights of our trip. Just turn onto Apple Valley Road just off the parkway and follow the Little Pigeon River around a couple of curves and you are there. At the far end of the property you will see the location of the original farmhouse where you can still see the beautiful oak furniture in the original dining and living room area.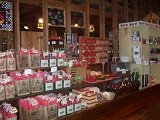 Let me explain that the Applewood Farmhouse Restaurant is actually two separate dining establishments, on the same property. Yes, there are two restaurants, a winery, general gift store, cider mill, and much more on the premises. We toured all areas and also ate at both restaurants as well as the cider mill! Dining at the Applewood Farmhouse Restaurant is more than just going out for a meal. Just walking up to the front porch of the old farmhouse can bring back memories for the many of us who enjoy the nostalgic past. And the ambiance of the interior will certainly bring back memories of a simpler time and great meals at Grandmas house. I know it certainly brought back memories for both of us. It was such a relaxing atmosphere to take in and enjoy a great meal.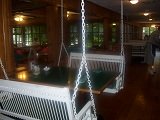 Our breakfast was at the Old Farmhouse originally built in 1921. It's authentic, not a re-creation - but with a few updates here and there. For starters every breakfast meal is served with a basket of freshly baked apple muffins, apple fritters, yummy apple butter jam and a fantastic fruit drink called applewood julep! Our meals were so plentiful we actually couldn't eat everything! In fact we were nearly full after the complimentary breakfast items. I ordered the blueberry pancakes which came with two eggs, fried potatoes, bacon...more than I could eat.
Steve ordered the Farmhouse Breakfast Special and it came with even more food; two eggs, fried potatoes, grits, sausage gravy, fried apples, a couple of sausage patties plus an order of apple cider of course. Everything was beyond great and exceeded our expectations. The fried apples brought back memories of childhood for me as I grew up with a mom who canned apples from our own small apple orchard.
We enjoyed our breakfast so much that we decided to go back the next day for a morning snack at the Cider Mill, and later in the day for dinner at the Apple Barn Farmhouse Grill. So this morning, we visited the Apple Barn Cider Mill & the General Store. Wow. We saw everything "apple" under one roof! And yes, there is a section for apple teacher gifts.
We looked in the window at the Cider Mill Bar, and saw all the picnic areas filled with patrons. So we asked another couple what the attraction was and they told us people come from all over to go through the cider bar! Yes, everything sold or served is made of apple! We ordered the fried apple pie and homemade cider and feasted. We went home with homemade apple pie, donuts made with cider and cider! I've gained about ten pounds on this trip!!
We had to walk off some of what we ate so we walked a few steps over to the very nice candle shop and Christmas store. These shops are all connected, so it makes it very easy to shop around! I bought a apple barn ornament and the best smelling apple/cinnamon candle ever!
After doing some touring up in the mountains we returned for dinner. Again, every dinner meal comes with a complimentary serving of apple fritters, homemade apple butter and applewood julep. The menu was loaded with so many great options to choose from. I just could not resist ordering the Old-Fashioned Chicken and Dumplings. It came with a vegetable, salad and the most delicious applesauce.
Steve had the Farmhouse Trio which consisted of southern fried chicken, chicken pot pie, and chicken and dumplings. He ended up taking half his dinner home! But it didn't end there...we also got a dessert with our meals…apple and peach cobblers! Yum!!
After dinner, we enjoyed a seat in the gazebo and then headed over to the Winery. We love stopping at wineries so this was a must do. We quickly made our way around the shop and versed ourselves with the wines they offer and the awards they've won. Making our way to the wine bar for a wine tasting, I asked for a sweet dessert wine and Steve, a dry white wine. Both were great and we walked out of there with three different wonderful wines.
The Little Pigeon River runs in front of the Applewood Farmhouse Restaurant and the area is beautiful. It's just a few blocks off the main drag, but you feel like your out in the country! The Restaurants are open from 8am to 9pm. They ship lip smacking home made treats to all over the world. What an amazing place and what they have done with fourteen varieties of apples, and more than 4,000 trees, you are sure to find you are touched by the magic of apples!
If you're bringing a group to the Applewood Farmhouse Restaurant, be sure to check out the special group menu. It makes it a lot easier to get great food for everyone without running into problems with the check or trouble deciding. Groups of twenty or more do need reservations, but there's free onsite parking.
Enjoy!
Contact Information
Applewood Farmhouse Restaurant

250 Apple Valley Road
Sevierville TN 37862
865-428-1222
www.applewoodfarmhouserestaurant.com
Map Location
Online Ticket & Reservation Window
To help with your vacation planning we have been given access to hundreds of Sevierville discounts for attractions, lodging and shows. We understand that traveling or vacationing in popular tourist areas can be slightly more expensive. We hope you find this to be helpful with your vacation budgeting.
For convenience, we offer these travel services to give our readers the option to pre purchase
Instant Reservation Tickets
before ever leaving home. It's now so easy to buy your tickets online & simply print them on your home computer. And when you purchase in advance, you will frequently receive additional price discounts. Plus, you can skip the reservation desk and go straight to the front of the line with your reservation voucher.
Reserve Direct
-
Attraction Tickets
- How to reserve fun attractions online.
Reserve Direct
-
Show Tickets
- How to reserve show tickets online.
Reserve Direct
-
Lodging Reservations
- How to reserve lodging online.
When you arrive at your destination, your E-Ticket reservation vouchers will be exchanged for your selected theater show, attraction or lodging preference. It's similar to how the major airlines handle online ticketing. The benefit of using E-Ticket reservation vouchers is that you can always reprint them from this website if they are misplaced by a simple login to your account - click on orders - and reprint.
Applewood Farmhouse Restaurant to Pigeon Forge Vacations
Applewood Farmhouse Restaurant to Pigeon Forge Restaurants