The Old Mill Pigeon Forge
Old Mill Square
The Old Mill Pigeon Forge is a living, working tribute to the early pioneer days in Tennessee. The Old Mill Square heritage is being preserved through a variety of skills and crafts that are on display in the area. Shops in the Square offer handmade crafts, hand thrown pottery, wood crafts, clay sculptures, jewelry, hand-carvings, weaving, great southern style cooking and various other unique items throughout the area.
In the early 1800's The Old Mill Pigeon Forge began serving the community of the Little Pigeon River providing meal and flour to the early settlers in the area. The water powered gristmill became a main hub of commerce and soon was serving as the gathering spot for the new villagers. It is listed on the National Register of Historic Places in America and is still today an authentic working mill.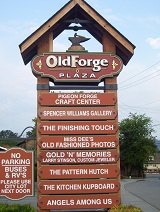 From the exterior you can watch the giant water wheel that uses the flow of the Little Pigeon River to turn it and is one of the most photographed mills in the entire country. Today, you can enjoy some natural green space just beyond the usual tourist areas of the parkway. Take some time for yourself and feel the peace of an escape back in time. From inside The Old Mill Pigeon Forge rustic structure, an aged system of shafts, belts and pulleys work to turn the four and a half ton stones and grain elevators. You can take a guided tour of the mill and still watch meal and flour being ground for use in the area restaurants and general store.
There are several additional specialty shops in the Old Mill area for a unique opportunity to experience authentic Southern hospitality that characterizes the Pigeon Forge-Gatlinburg area and keeps people coming back again and again. Several of our Old Mill favorites are listed. A couple of our favorite shops in the area include the Smoky Mountain Cat House and the Smoky Mountain Dog House.
Old Mill Candy Kitchen
Are you old enough to remember the old fashion candy store on main street? If you are, or more importantly if you're not, please do yourself a big favor and take in the surroundings of the Old Mill Candy Kitchen. You can see what you've missed all these years and take a short stroll down memory lane. We really enjoyed this quaint shop with homemade candy still made in old fashion copper kettles and taffy machines that have been in use for more than half a century.
The owners of the Old Mill Pigeon Forge Candy Kitchen still use traditional recipes to create a unique assortment of sweets. You can test or take home candy, chocolate, fudge, hand-pulled taffy, divinity, peanut brittle, caramel and much more made on site daily. We purchased enough for the rest of our stay in Pigeon Forge and had them UPS a goodie package so we could enjoy the memories again when we returned home from our vacation.
177 Old Mill Avenue
Pigeon Forge, TN 37863
865-453-7516
www.old-mill.com

Old Mill Creamery
Also in the Old Mill Pigeon Forge square is an old-fashioned ice cream parlor you'll want to experience. The Old Mill Creamery still uses old homemade special mixes to make several varieties and flavors. You get hand scooped flavors of the month and you can always choose from dozens of everyday favorites. Unfortunately, you have to eat what you can while your there. No home shipping options for ice cream!
171 Old Mill Avenue
Pigeon Forge TN 37863
865-453-4301
www.old-mill.com

Old Mill Farmhouse Kitchen
Did you enjoy a meal at one or more of the Old Mill Pigeon Forge area restaurants? If you did, or would like to try some additional menu items you can pick up the ingredients at the Old Mill Kitchen store. You can find everything you need for an Old Mill breakfast, lunch, or dinner to enjoy them at home after your vacation.
They also offer unique sauces for the fresh baked artisan style breads, plus the on site potters have a line of unique farmhouse cookware and bake ware for your kitchen back home. They also offer some really unique custom gift baskets, which are a great gifts for family, friends or for your own home.
183 Old Mill Avenue
Pigeon Forge, TN 37868
865-428-2044
www.old-mill.com

Old Mill & General Store
The general store is central to the Old Mill Pigeon Forge area. This is the historic building you see in all the pictures with the water wheel on the Pigeon River. This is a one of a kind historic building you'll want to make certain to tour and experience. The General Store is directly adjacent to the Old Mill Restaurant and is literally just like stepping back in time.
Inside the General Store, you'll find fresh ground grains, such as yellow and white grits or cornmeal, a variety of flours, pancake and specialty mixes. You'll also find homemade salad dressings, locally-made jams and jellies, sorghum, country ham and bacon and other interesting items such as souvenirs, handmade decorations and much more. Before you depart, just take a few moments to sit on the front porch and let yourself imagine what it might have been like.
175 Old Mill Avenue
Pigeon Forge, TN 37868
865-453-4628
www.old-mill.com

Old Mill Pigeon River Pottery
Handmade pottery has been made in the Old Mill Pigeon Forge River Pottery shop now for over 50 years. The talented artisans here are said to be experts in the traditional mountain crafted pottery and created most of the plates, bowls and serving pieces used in the Old Mill restaurants. You can watch pottery being formed and fired on site to include hundreds of specialty and serving pieces in many unique glazes from place settings, kitchenware, home décor, and collectibles. The shop is unique to say the least and we really enjoyed spending time observing pottery being formed right before our eyes.
175 Old Mill Ave
Pigeon Forge, TN 37863
865-453-1104
www.old-mill.com

Old Mill Pottery House Café & Grille
For the full story please click on
Old Mill Pottery House Café & Grille
to read more about one of favorite restaurants in Pigeon Forge
Old Mill Restaurant
Please click on
Old Mill Restaurant
for the entire story about one of favorite restaurants in Pigeon Forge
Old Mill Toy Bin
You may not ever see a toy store like this again should you pass it by. We truly enjoyed our visit to this unique and interesting store. The staff was friendly and the atmosphere was fun. They offer many nostalgic old fashioned type toys popular years ago. The Old Mill Pigeon Forge Toy Bin offers a superb selection of high quality wooden toys including little red wagons and wooden rocking horses. They also carry a wonderful selection of unique specialty educational games and toys.
181 Old Mill Ave
Pigeon Forge, TN 37863
865-774-2258
www.old-mill.com
Map Location
Online Ticket & Reservation Window
To help with your vacation planning we have been given access to hundreds of Pigeon Forge discounts for attractions, lodging and shows. We understand that traveling or vacationing in popular tourist areas can be slightly more expensive. We hope you find this to be helpful with your vacation budgeting.
For convenience, we offer these travel services to give our readers the option to pre purchase Instant Reservation Tickets before ever leaving home. It's now so easy to buy your tickets online & simply print them on your home computer. And when you purchase in advance, you will frequently receive additional price discounts. Plus, you can skip the reservation desk and go straight to the front of the line with your reservation voucher.
Reserve Direct
-
Attraction Tickets
- How to reserve Pigeon Forge fun attractions online.
Reserve Direct
-
Show Tickets
- How to reserve Pigeon Forge show tickets online.
Reserve Direct
-
Lodging Reservations
- How to reserve Pigeon Forge lodging online.
When you arrive at your destination, your E-Ticket reservation vouchers will be exchanged for your selected theater show, attraction or lodging preference. It's similar to how the major airlines handle online ticketing. The benefit of using E-Ticket reservation vouchers is that you can always reprint them from this website if they are misplaced by a simple login to your account - click on orders - and reprint.
The Old Mill Pigeon Forge to Pigeon Forge Vacations