Bearskin Lodge Gatlinburg
Traditional Mountain Lodge
The Bearskin Lodge Gatlinburg is conveniently located near the entrance of the Great Smoky Mountains National Park. The setting offers great views of the mountains and a lot of options simply because of its proximity. We love the location because it's only a few short blocks to downtown Gatlinburg. They also have a convenient stop for the trolley at the lodge which allows easy access to everything. This was our second stay at the Bearskin Lodge. It's unique in that you can experience the historical feeling
of the place with its traditional mountain craft decorations and massive log beamed rustic look. When you first enter the front lobby, there is the pleasant smell of an open wood fire. We really liked the rustic lodge feel with the fireplace in the front lobby area offering a great place to just sit and enjoy.
Room with a River!
Our room has two queen beds, a fireplace and balcony overlooking the river. The room was actually quite spacious and very nicely decorated in a mountain lodge theme. I guess we would call it a craftsman style room décor and was very nicely furnished. Our room balcony was on the mountain stream, as we requested. It had a sliding glass door that led outside which was large enough for two chairs and a table. It was so delightful and relaxing to listen to the mountain stream.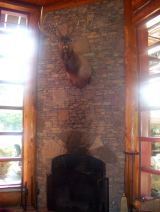 After taking in the wonderful morning view, you can take advantage of the continental breakfast in the lodge. It definitely filled up all three boys and we were energized to start the new day. Or, you can choose to eat on your balcony and still get to enjoy the scenery. If you are not feeling up to going around and seeing the other great attractions that Gatlinburg has to offer, you can just spend the whole day at the Bearskin Lodge Gatlinburg and feel well rested. We really enjoyed the warm water in the lazy river and swimming pool for a little down time and relaxation!
Vacation Packages
If you have decided to stay at Bearskin Lodge Gatlinburg but do not know what to expect in the area or want to try out something different, the resort offers some vacation packages. On our first stay here, we chose to go on a real family adventure by trying the exhilarating white water rafting. Its wet, its fast and it's an adventure that we will never forget! No need to worry if you have never tired this before since a professional guide will be with you.
Be sure to have pictures or videos taken to provide you a lasting memory of this ride of a lifetime! The first part of the day is a 2-hour guided hike to Big Creek which includes a deli style lunch. The final leg is a 2-hour rafting trip down the Pigeon River. This was definitely one of the highlights of our entire stay in Bearskin Lodge Gatlinburg. The white water rafting package is something you will surely enjoy and reminiscing with your children many years from now.
On our second trip to the Bearskin Lodge we decided to sign on for the Dixie Stampede Gatlinburg vacation package. Each ticket includes the pre-show opening act, the main show in the big arena and a four-course dinner. Just click on
Show Time
to find out how much fun we had on our evening at the Dixie Stampede show.
Location and Contact Information
A lot of people are looking for vacation spots that allow them to escape the usual buzz of the city. We were in search for a location where we could enjoy nature at its best while still having the amenities of a hotel. The Bearskin Lodge Gatlinburg offers a unique mix of nature and history while providing its guest the luxuries of staying in a state-of-the-art resort. Like us, you can enjoy being one with nature and also get a memorable trip at the same time.
Bearskin Lodge Gatlinburg
840 River Road
Gatlinburg, TN 37738
1-877-795-7546 or 865-430-4330
www.thebearskinlodge.com
Map Location
Online Ticket & Reservation Window
To help with your vacation planning we have access to hundreds of Pigeon Forge & Gatlinburg area discounts for attractions, lodging and shows. We understand that traveling or vacationing in popular tourist areas can be slightly more expensive. We hope you find this to be helpful with your vacation budgeting.
For convenience, we offer these travel services to give our readers the option to pre purchase
Instant Reservation Tickets
before ever leaving home. It's now so easy to buy your tickets online & simply print them on your home computer. And when you purchase in advance, you will frequently receive additional price discounts. Plus, you can skip the reservation desk and go straight to the front of the line with your reservation voucher.
Reserve Direct
-
Attraction Tickets
- How to reserve Pigeon Forge fun attractions online.
Reserve Direct
-
Show Tickets
- How to reserve Pigeon Forge show tickets online.
Reserve Direct
-
Lodging Reservations
- How to reserve Pigeon Forge lodging online.
When you arrive at your destination, your E-Ticket reservation vouchers will be exchanged for your selected theater show, attraction or lodging preference. It's similar to how the major airlines handle online ticketing. The benefit of using E-Ticket reservation vouchers is that you can always reprint them from this website if they are misplaced by a simple login to your account - click on orders - and reprint.
Bearskin Lodge Gatlinburg to Gatlinburg Resorts
Bearskin Lodge Gatlinburg to Pigeon Forge Vacations