Hidden Mountain Resort
Home Away From Home!
Hidden Mountain Resort in Sevierville has been providing a beautiful retreat for visitors to the Smoky Mountains for almost thirty years. They're the perfect choice for anyone who wants a cabin experience without giving up their little luxuries. If you'd like to spend some time together in the wilderness of the Great Smoky Mountains without going too far off the beaten path, Hidden Mountain is definitely for you.
Hidden Mountain Resort was first founded in 1981, with just a few units. The cabins were well received by its visitors, and soon rental customers started asking how they could buy a cabin of their own. Since then, the business has grown to include over three hundred units, two hundred of which are owned by guests, and accommodates guests from everywhere in the world. The decor has changed from simple cabin rentals to high quality, luxury accommodations. It would appear Hidden Mountain Resort is working to make sure you have the best vacation possible.
The cabins at Hidden Mountain Resort are all made from high quality log construction, with an attractive, mountain themed design. They offer daily housekeeping and onsite maintenance, and the East office is open around the clock, all week long. The West office is open from eight in the morning to eleven pm all year, and twenty-four hours during weekends and peak season.
Units range from one bedroom to a gigantic fourteen bedroom lodge by the river, and you're allowed to book up to two years in advance. In fact, it's a good idea to do so, especially if you'd like a large cabin or a group of cabins during peak season. While walk-ins are welcome, there's just no guarantee. There are also one to five bedroom cottages in farmhouse style, two bedroom villas and one to four bedroom condominiums.
All units come with gas grills and cooking utensils, toasters, coffee makers, and all their own dishware and silverware. There are also pillows, bedspreads, towels and linen provided, plus everything else you'll need to enjoy your cabin stay. Remember to bring your own coffee filters, paper towels and toiletries. Some cabins even have private pools and hot tubs. Of course, there are plenty of convenient stores near the East location, just in case you forget something. The West location is a little more isolated, so pack more carefully.
The east location has a Club House Lodge on site to make it easy for having group events. The site itself features picnic pavilions, tree swings, pools and fishing ponds, plus some great trails for a quiet walk. The pool complex includes a children's pool, gazebo fire pit and outdoor hot tub, and is open between Memorial Day and Labor Day. It is a very nice and relaxing area with several tiered sections just off the large screened in porch in the Club House. The West location features a pavilion with eight picnic tables and outdoor pool.
Hidden Mountain East is located just up the road from the Apple Barn and Cider Mill. A number of people live here permanently - it's not just a place for vacation rentals. Hidden Mountain West is made up of log cabins surrounded by beautiful wilderness views, and is the original location of Hidden Mountain Resort. It lets you really feel surrounded by the natural setting, but it's only a few miles from town.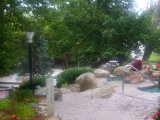 In addition to their regular rates, Hidden Mountain Resort provides a number of great package deals. For instance, if you'd like to come here with your sweetheart, you can enjoy their Romance Packages, which include everything you'll need for your vacation. Meal Packages are also available, and come in a wide range of types. There's a Romantic Dinner package, and one that offers a delicious meal for the whole family. You can also add in gift baskets and treats using their add-on feature. Just give the reservation desk a call to find out what's available and to add any package onto your stay.
Hidden Mountain Resort is also a wonderful choice for larger groups. Since they have options available for sleeping up to two dozen, it's a great place to have your reunion, retreat, anniversary part, wedding or conference. Just make sure you call in advance if you'll be bringing a group - you could get some great deals. If you've been thinking about visiting the Smoky Mountains area, don't forget about Hidden Mountain Resort. We had a great time there, and we're sure that you will, too! Take a little time and check them out. You won't be sorry!
p.s. - If you have a chance – check out the ABOUT US page on the Hidden Mountain website. You will soon read that the owners have put their heart and soul in their business and truly want their guests to have the best possible vacation by providing a "home away from home".
Contact Information
Hidden Mountain Resort
475 Apple Valley Road
Sevierville, TN 37862
800-452-5992 or 865-453-9850
www.hiddenmountain.com
Map Location
Online Ticket & Reservation Window
To help with your vacation planning we have been given access to hundreds of Sevierville discounts for attractions, lodging and shows. We understand that traveling or vacationing in popular tourist areas can be slightly more expensive. We hope you find this to be helpful with your vacation budgeting.
For convenience, we offer these travel services to give our readers the option to pre purchase
Instant Reservation Tickets
before ever leaving home. It's now so easy to buy your tickets online & simply print them on your home computer. And when you purchase in advance, you will frequently receive additional price discounts. Plus, you can skip the reservation desk and go straight to the front of the line with your reservation voucher.
Reserve Direct
-
Attraction Tickets
- How to reserve fun attractions online.
Reserve Direct
-
Show Tickets
- How to reserve show tickets online.
Reserve Direct
-
Lodging Reservations
- How to reserve lodging online.
When you arrive at your destination, your E-Ticket reservation vouchers will be exchanged for your selected theater show, attraction or lodging preference. It's similar to how the major airlines handle online ticketing. The benefit of using E-Ticket reservation vouchers is that you can always reprint them from this website if they are misplaced by a simple login to your account - click on orders - and reprint.
Hidden Mountain Resort to Pigeon Forge Vacations
Hidden Mountain Resort to Pigeon Forge Resorts