Parrot Mountain
Walk & Talk with the Birds!
About ten miles up in the mountains, Parrot Mountain is a sanctuary of gardens and flowers, home to hundreds of exotic parrots and birds from all over the world. It is located about 10 miles out of town way back up in the Smokies. There are a few twist and turns in the road so watch closely for signs along the way. Or just set your GPS to 1471 Hollow Road, Pigeon Forge, Tennessee because you won't find this place any where near all the hustle and bustle of the shopping and other attractions in town.  
We were really amazed with Parrot Mountain Pigeon Forge Tn because it was really like nothing we've ever visited before!  We have been to zoo's but certainly not a "zoo for birds" ever before. The front entrance near the parking lot is just beautiful. There were several parrots sitting right out front on perches and they were not in any cages or a secure area.
After purchasing a day ticket, we strolled down gorgeous paved walkways stopping along the way to take pictures of the beautiful birds and luscious vegetation.  We saw toucan's, parrots, magpies and so many species of birds we never knew existed. In fact, they have species of birds from Asia, Central and South America, Indonesia, Africa and Australia. The color of these birds mixed in with the beautiful surroundings, made for a very peaceful and beautiful walk.  You are probably thinking...did she say peaceful? Yes, even though the birds are chirping, talking and some singing, the sounds become like one with the environment.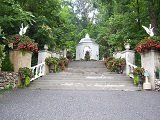 One of the highlights for us was watching the very close and personal interaction between some of the birds and the caretakers. One staffer had a tame bird perched in his pocket … adorable! Another caretaker was talking with a bird as though he was holding a conversation with an adult!  Another joy was getting interactive with the birds and feeding the Lories. Lories are beautiful multi colored birds who love to eat, so they'll eat right out of your hands. We also really enjoyed visiting the baby parrot nursery where we could view newborn parrots, what a joy.  
If you like hands on, eco friendly attractions, then this is the place for you. Parrot Mountain also offers field trips for schools and for birthday parties.  What a great way to introduce children to birds and nature. You can also visit the website, and learn how to become a bird sponsor.  You see, a majority of the birds are rescued!  With every donation they can help save another bird. If you decide to sponsor, a picture of the bird you are helping will be mailed to you.
You can also purchase a bird and take it home, complete with how to take care of this species information. While on the website, look for dates and times they are open.  You wouldn't want to make this jaunt up the foothills only to be disappointed they weren't open! Before you leave, have your picture taken. It will cost some to have this done but when will you ever get that many tame birds perched on and around you in a beautiful setting? Don't forget to bring your camera for some great shots. You might even have a bird land right on the shoulder of someone in your group.  
Bring a picnic lunch and enjoy some time sitting out on the deck and take in the beautiful garden, sounds of the birds and a nearby waterfall. There is plenty of shaded areas to perch yourself. Most of all, please remember that birds are animals and even tame animals can become wild so obey the signs.
If you are in the Pigeon Forge area and want to escape the shopping and traffic for a few hours, head up the hill to Parrot Mountain and enjoy this sanctuary. You won't stand in any long lines here and there is no rush so you can spend the entire day if you choose!!  We thought this would be a quick in and out. We enjoyed it so much we speny over 3 hours just taking in the entire area. You will more than likely feel at peace while visiting this attraction. Enjoy!  
One more thing - we did get a discount. So check all the coupons books before you leave the Pigeon Forge area.
Parrot Mountain Gardens
1471 McCarter Hollow Road
Pigeon Forge, TN 37862
865 -774-1749
www.parrotmountainandgardens.com
Map Location
Online Ticket & Reservation Window
To help with your vacation planning we have been given access to hundreds of Pigeon Forge discounts for attractions, lodging and shows. We understand that traveling or vacationing in popular tourist areas can be slightly more expensive. We hope you find this to be helpful with your vacation budgeting.
For convenience, we offer these travel services to give our readers the option to pre purchase Instant Reservation Tickets before ever leaving home. It's now so easy to buy your tickets online & simply print them on your home computer. And when you purchase in advance, you will frequently receive additional price discounts. Plus, you can skip the reservation desk and go straight to the front of the line with your reservation voucher.
Reserve Direct
-
Attraction Tickets
- How to reserve Pigeon Forge fun attractions online.
Reserve Direct
-
Show Tickets
- How to reserve Pigeon Forge show tickets online.
Reserve Direct
-
Lodging Reservations
- How to reserve Pigeon Forge lodging online.
When you arrive at your destination, your E-Ticket reservation vouchers will be exchanged for your selected theater show, attraction or lodging preference. It's similar to how the major airlines handle online ticketing. The benefit of using E-Ticket reservation vouchers is that you can always reprint them from this website if they are misplaced by a simple login to your account - click on orders - and reprint.
Parrot Mountain to Pigeon Forge Vacations
Parrot Mountain to Pigeon Forge Attractions