Gatlinburg Golf
Smoky Mountain Links!
Gatlinburg golf offers several world class courses in beautiful country settings. The scenery of the Smoky Mountains offers a beautiful setting for some of the best golfing in the country. Rolling hills and valleys set you up for challenging courses in outstanding surroundings that invites you to enjoy a round of golf to remember.
Bent Creek Golf Course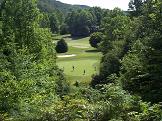 "Photo Courtesy of Bent Creek Golf Course"
Bent Creek Golf Course is located just 15-20 minutes north of Gatlinburg adjacent to the Smoky Mountains. Beth and I made an early tee time to play 18 holes last Tuesday morning. We were actually lodging just up the mountain at Deer Ridge Mountain Resort. After a nice scenic drive down the mountain we arrived to play our round of golf. It was a very nice day with mostly clear skies, warm and a hint of humidity for the spring season. The Great Smoky Mountains provide a spectacular backdrop for Bent Creek Gatlinburg Golf Course.
The front nine plays along the valley floor while the back nine takes you more on the mountain side of the course. A lovely mountain stream winds its way throughout the entire course making for a wonderful distinction between the water, the beautiful landscaping and the Great Smoky Mountains National Park.
The elevated tees and the tree lined fairways help keep you on your game as you navigate your way to the elevated greens. The scene made for a very enjoyable and relaxing round of golf that we both really enjoyed. After all, scores are not important…right?
The 18 hole Bent Creek Gatlinburg Golf Course was designed by champion golfer Gary Player. He built the course to demand the best of each individual golfer which makes you play every club in your bag. The Resort is fully mature now and does well to challenge your game.
Bent Creek Golf Course is actually a full service resort. The facilities include condos, bar and grill, practice facilities, pro shop, fitness center, indoor and outdoor pool, spa, picnic area with grills, as well as volleyball and basketball courts. They also offer golf lessons and combination packages. Next time we visit the area, we plan to stay right at the resort and take advantage of one of the great package deals.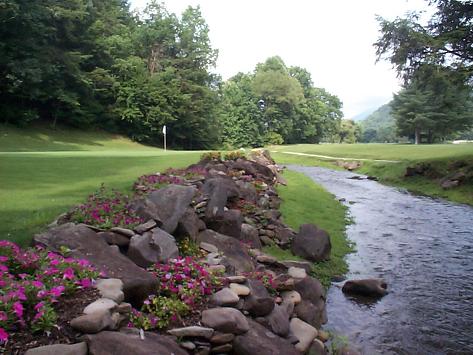 "Photo Courtesy of Bent Creek Golf Course"
3919 East Parkway
Gatlinburg, TN 37738
865-436-3947
www.bentcreekgolfcourse.com
Map Location
Gatlinburg Golf Course
I was very glad we able to fit in a round during our stay last summer. When you drive up the hill on Dollywood Lane you can see right away that you are going have some elevated views of the surrounding area. While the sign on the door says your at the Gatlinburg Golf Course you are actually on the far east end of Pigeon Forge just a few miles from Gatlinburg.
As promised, the views will amaze with the scenic beauty of the Smokey's. And don't let the moderate yardage fool you, the course will challenge you with vertical drops, elevated greens and versatile fairways. The 18-hole course features 6,282 yards of golf for a par of 71, a course rating of 73.3 and a slope rating of 132.
We found the front nine to be a fairly typical layout that was in very good shape with well groomed greens and nicely landscaped. The back nine is where some of the action really starts as more of the mountainous terrain come into play. The 12th hole has a very distinctive setup with a par 3 that must drop what seems to be 200 feet to the green. The rest of the back nine is tight and challenging and each hole has its own unique style with some great mountain views. You will easily understand why this Gatlinburg golf course has been celebrated as one of the most picturesque courses in America.
520 Dollywood Ln
Pigeon Forge, TN 37863
800 231-4128 865 453-3912
www.gatlinburg-tennessee.com/golf/
Map Location
Mini Golf
Circus Golf
919 Parkway
Gatlinburg, TN 37738
865-436-4414
Map Location
Hillbilly Golf
340 Parkway
Gatlinburg, TN 37738
865-436-7470
Ripley's Davy Crockett Mini Golf
200 Parkway
Gatlinburg, TN 37738
865-430-8851 www.ripleysminigolf.com
Map Location
Treasure Quest Miniature Golf
653 Parkway
Gatlinburg, TN 37738
865-436-3972
Map Location
Online Ticket & Reservation Window
To help with your vacation planning we have access to hundreds of Pigeon Forge & Gatlinburg area discounts for attractions, lodging and shows. We understand that traveling or vacationing in popular tourist areas can be slightly more expensive. We hope you find this to be helpful with your vacation budgeting.
For convenience, we offer these travel services to give our readers the option to pre purchase
Instant Reservation Tickets
before ever leaving home. It's now so easy to buy your tickets online & simply print them on your home computer. And when you purchase in advance, you will frequently receive additional price discounts. Plus, you can skip the reservation desk and go straight to the front of the line with your reservation voucher.
Reserve Direct
-
Attraction Tickets
- How to reserve Pigeon Forge fun attractions online.
Reserve Direct
-
Show Tickets
- How to reserve Pigeon Forge show tickets online.
Reserve Direct
-
Lodging Reservations
- How to reserve Pigeon Forge lodging online.
When you arrive at your destination, your E-Ticket reservation vouchers will be exchanged for your selected theater show, attraction or lodging preference. It's similar to how the major airlines handle online ticketing. The benefit of using E-Ticket reservation vouchers is that you can always reprint them from this website if they are misplaced by a simple login to your account - click on orders - and reprint.
Gatlinburg Golf to Gatlinburg Attractions
Gatlinburg Golf to Pigeon Forge Vacations