Smoky Mountain Knifeworks
Knives, Knives, Knives!
If you love knives, Smoky Mountain Knifeworks is a must see. Featuring all kinds of knives for all kinds of uses, this Tennessee business has something for every knife lover. From kitchen knives to martial arts weapons, fishing and hunting knives to fantasy swords and novelties, Knifeworks has it all.
They also carry clothes, books and videos on using knives, cooking materials like sauces, gift sets, camping and outdoor gear, and knife sharpening tools and accessories. They've got everything a knife lover could possibly want, all under one roof.
Smoky Mountain Knifeworks got its start in Sevierville in the early 1970s. We read that John Parker and Kevin Pipes hit on the idea of selling pocket knives at local flea markets. Their venture was a great success, and their business grew throughout the decade. They built strong relationships with customers and vendors, and were soon able to open a retail showroom. By 1978, they bought some property with their own building location. Since then, the business has grown with enthusiasm, and has outgrown two facilities. The current retail location was custom built in Sevierville, Tennessee; and it's huge.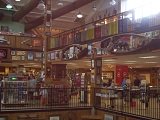 They say over one million customers visit the retail show room every year, but that's not all. They also send millions of mail order catalogs out annually, and is the largest online knife show place in the world, with a website located at eKnifeWorks.com. They provide shipping all over the world, and free ground shipping for orders over a certain amount, but it's even cheaper and a lot more fun if you just stop in and check out all the knives in person.
Smoky Mountain Knifeworks is located in a huge building - over fifty-five thousand square feet of space dedicated to some of the best knives in the world. We found they have thousands of brand name knives at really low prices. We actually purchased a cutlery set for a low, low price! We also got to check out their collection of knife and blade memorabilia, and some impressive trophy wildlife. The collection includes taxidermy antelope, bear, ducks, mountain lions, zebras and many other animals. Admission to the knife museum is free during the store's regular business hours.
The Smoky Mountain Knifeworks also has a set of historical collections, featuring museum quality relics from area Native American tribes, Civil War relics, and some interesting Americana. History buffs will want to check them out, even if knives aren't really their thing.
There's also a working knife shop in an old 2 room brick cabin type building in the parking lot, where you can see knives made on site. We decided to check it out and found it to be very interesting. There was a gentleman sharpening blades on a wheel and the sparks were flying. It was something of a small museum as they gave us a tour of the history of knives. They had several exhibits you could see and touch on the walls and in little boxed up items all over the place.
This is a unique shopping experience for just about anyone, though you do see a lot more men in the store than anyone else. People who aren't into knives will enjoy the gardening and birding sections on the lower level, the kitchen area, and the indoor river (with water wheel and waterfall!) Kids are welcome in the store, as well. There are some great animal scenes, and even a singing bear and raccoon on the lower level.
The on site food cart means that families can enjoy a snack without having to leave the knifeworks. Kettle corn, fresh squeezed lemonade, and hot lunch are also available, and the building includes a few picnic tables in front, so there's a place to sit down and relax.
This is a great place to spend a little time shopping, check out the history and museums, and get a quick snack. Plus, you're practically guaranteed not to leave empty handed. The knifeworks is sure to have the kind of knife you're looking for, no matter what you need - you can easily spend an hour or two just browsing.
Contact Information
Smoky Mountain Knifeworks
2320 Winfield Dunn Parkway
Sevierville, TN 37876
865-428-8111 or 800-251-9306
www.smkw.com
Map Location
Online Ticket & Reservation Window
To help with your vacation planning we have been given access to hundreds of Sevierville discounts for attractions, lodging and shows. We understand that traveling or vacationing in popular tourist areas can be slightly more expensive. We hope you find this to be helpful with your vacation budgeting.
For convenience, we offer these travel services to give our readers the option to pre purchase
Instant Reservation Tickets
before ever leaving home. It's now so easy to buy your tickets online & simply print them on your home computer. And when you purchase in advance, you will frequently receive additional price discounts. Plus, you can skip the reservation desk and go straight to the front of the line with your reservation voucher.
Reserve Direct
-
Attraction Tickets
- How to reserve fun attractions online.
Reserve Direct
-
Show Tickets
- How to reserve show tickets online.
Reserve Direct
-
Lodging Reservations
- How to reserve lodging online.
When you arrive at your destination, your E-Ticket reservation vouchers will be exchanged for your selected theater show, attraction or lodging preference. It's similar to how the major airlines handle online ticketing. The benefit of using E-Ticket reservation vouchers is that you can always reprint them from this website if they are misplaced by a simple login to your account - click on orders - and reprint.
Smoky Mountain Knifeworks to Pigeon Forge Vacations
Smoky Mountain Knifeworks to Pigeon Forge Shopping