Oak Haven Resort Tennessee
Cabin Resort in the Smokies!
Oak Haven Resort Tennessee is located in a beautiful wooded area, just far enough outside the city to enjoy the peace and tranquility of the mountains. Yet still close enough to all the area attractions, great food, shopping and water sports to be there in a few minutes. This is an awesome lodging option for luxury log cabins nestled out in the woods. The location was also perfect for day trips out to the Great Smoky Mountains National Park.
The cabins can accommodate couples, large families or groups. You are able to choose the cabin that's right for you from many options! This resort is open all year long, and offers special rates at certain times of year. So, if you're thinking of heading to the Pigeon Forge - Gatlinburg area anytime soon, we recommend for our friends to check out Oak Haven Resort Tennessee!
These cabins are the perfect choice for honeymooners and couples on romantic getaways, as well as for family trips, group gatherings and special events. The staff here is very friendly and happy to answer questions for just about any topic. The cabins at Oak Haven Resort Tennessee range between one bedroom and a huge seven bedroom cabin that can sleep up to 29 people. Cabins come equipped with king sized beds and queen sized sleeper sofas, a custom kitchen with full sized appliances, plus high quality cookware and dining ware, everything you need to cook. There is a Kroger grocery store just a few miles away for picking your groceries when you get to town.
Housekeeping is daily, except for holidays and Sundays. They come around, clean the cabin, and provide fresh sheets, towels, other linens, and refresh all the paper products. You also have in-cabin wireless high speed Internet access. The wireless features no passwords, and doesn't require you to be a tech expert, and every cabin has its own network.
We stayed in a very nice 3 bedroom, 3 bath log cabin with a large game room within easy walking distance to the swimming pool area. It was very convenient for the kids to have easy access to the pool, game room, playground and basketball courts. Even with all the fun right across the street, it was not always easy to get the kids outside when you have a pool table, arcade game, foosball and ping pong inside the cabin! Oak Haven Resort Tennessee has it all.
My wife Beth and I on the other hand, really enjoyed the peace and quiet of the natural surroundings of Oak Haven Resort Tennessee by spending as much time as possible out on the front porch or the screened in rear porch. There are many opportunities to relax in a rocking chair, while taking in the great view soaking in the hot tub. The screen porch had swings, several rocking chairs, and featured a nice big gas grill!
We enjoy cooking out, and the grilling area makes this possible all year round. Even inside the cabin it is sooo easy to relax. The natural feel of the cabins is just beautiful, the all wood panels, floors, cathedral ceilings, the large windows with a great view is very inviting.
The main living area level of the cabin has a big screen TV, DVD, VCR, and a nice stone fireplace. The kitchen is equipped up with a dishwasher, microwave, a blender and all the necessary appliances. We ate in almost every night and there were plenty of dishes, pots, and pans for the whole family. The eating area has a bar top with seating for 4, and a dining table for 6 persons. The main level also has a bedroom with a king size bed, TV, DVD player and a Jacuzzi Tub.
The other 2 bedrooms were split up with one on the upper level and another on the lower level. Again they both have a king size bed, TV, DVD and a full bath in both. The lower level is where the kids spent most of their time because the game room included a big screen TV, arcade games, a kitchenette with a microwave and mini fridge. The rear screened porch has foosball and ping pong tables.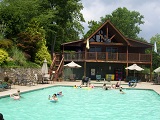 They also have a beautiful club house area with many other great features. The main attraction is of course the nice large outdoor swimming pool - open May to September. Our cabin location near the pool was great, the kids could just walk on over. If your kids enjoy swimming, you might consider something by the pool because the hills in the area are steep and the cabins spread out. For younger kids there's also a children's pool. Inside the Oak Haven Resort Tennessee club house, consider hitting the game room to play ping pong, a few video games, foosball, pool, or any of the other options. Outside, there's a play area for the kids, so they'll be able to have fun and work off a little energy. There's a full sized play structure and a big open lawn area for running around. There are also outdoor basketball and tennis courts, for kids and grownups alike.
You might also want to check out some of the resort's walking trails and have a relaxing hike through the scenery. These easy access trails have a smooth stone surface, and wind through the woods on a route that's set up for even beginning hikers. The hiking trails are nice and the steep hilly elevation definitely gives you a work out. Benches and picnic tables are along the route, so it's easy to stop and have a rest and a picnic while you listen to the birds and other wildlife. We loved hiking through these trails, and also the ones in nearby Great Smoky Mountains National Park.
Don't forget to visit the Spa at Oak Haven Resort Tennessee. They offer facials, full body massages, manicures and pedicures, body treatments and more. Plus, there are convenient spa packages to make your visit affordable and easy to set up. All the treatments are done by licensed therapists in a really nice environment. Visiting the spa is a truly unforgettable way to unwind and spend a little time ignoring all your troubles.
To make a reservation, you can just sign up on the resort's webpage. You put in your information, the dates you want to stay, and which unit you want, then they have a real human contact you to confirm your reservation. Don't forget to take advantage of off season rates January through April. You could save some money on a great vacation, after all!
Contact Information
Oak Haven Resort Tennessee
1947 Old Knoxville Highway
Sevierville, TN 37876
800-652-2611 or 865-428-2009
www.oakhavenresort.com
Map Location
Online Ticket & Reservation Window
To help with your vacation planning we have been given access to hundreds of Sevierville discounts for attractions, lodging and shows. We understand that traveling or vacationing in popular tourist areas can be slightly more expensive. We hope you find this to be helpful with your vacation budgeting.
For convenience, we offer these travel services to give our readers the option to pre purchase
Instant Reservation Tickets
before ever leaving home. It's now so easy to buy your tickets online & simply print them on your home computer. And when you purchase in advance, you will frequently receive additional price discounts. Plus, you can skip the reservation desk and go straight to the front of the line with your reservation voucher.
Reserve Direct
-
Attraction Tickets
- How to reserve fun attractions online.
Reserve Direct
-
Show Tickets
- How to reserve show tickets online.
Reserve Direct
-
Lodging Reservations
- How to reserve lodging online.
When you arrive at your destination, your E-Ticket reservation vouchers will be exchanged for your selected theater show, attraction or lodging preference. It's similar to how the major airlines handle online ticketing. The benefit of using E-Ticket reservation vouchers is that you can always reprint them from this website if they are misplaced by a simple login to your account - click on orders - and reprint.
Oak Haven Resort Tennessee to Pigeon Forge Vacations
Oak Haven Resort Tennessee to Pigeon Forge Resorts