Wild Plum Tea Room
"Hidden Treasure"
The Wild Plum Tea Room is one of the best place to have lunch in the Gatlinburg area. On a warm summer day up in the Smoky Mountains, we stumbled upon a gem of a restaurant. The Wild Plum is located within the Gatlinburg Arts & Crafts Community just a short 5 to 6 miles east of Gatlinburg on Highway 321. The Wild Plum Tea Room is in a cozy timber house that has been converted to a restaurant. The overall feel is a quaint, unique atmosphere where gourmet food is served and the staff is very friendly and willing to help.
The Plum Tea Room originated from visits the owner had to Austria's Tea Rooms, at a time when people gathered, ate and shared stories. This restaurant was established in 1984 and is still going strong ever since. Walking up to the Plum Tea Room, you instantly feel at home in grandma's farmhouse!
We requested to be seated in the screened porch at a corner table overlooking the stream, and there is seating on the outdoor patio as well as several tables inside and upstairs. Each table is uniquely decorated and set with assorted china and depression ware. All the wait staff are dressed in calico dresses, to reflect on the days of yesteryear, it remind me of Anne of Green Gables! The cute menu was brought to us on a calico fabric board and we immediately ordered the famous Plum Tea which is a cooled sweet tea. With the tea we were served delightful tiny muffins with the fantastic wild plum jelly all included with every meal.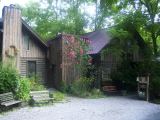 The food is always fresh and homemade, and every day features a new menu of specialty items, allowing you to choose different options just by going back on a different day. Remember to check out the specials - even if you aren't interested in what else is on the menu, they're often pretty tempting. The people seating at the table next to us were hoping it was tomato pie day!
Other options that we've seen at the Wild Plum Tea Room include crab pot pie, crab puff pastry sandwiches, orzo salad (with balsamic dressing and raisins), roast beef sandwiches, potato salad and many other choices. There's a delicious fruit medley and some really unique home made of soups or salad, too.
I decided to try the chicken salad and it had huge chunks of chicken in a savory sauce, and was excellent. My husband Steve chose the special of the day which was smoked trout with a tart dill sauce and some fresh fruit. For dessert, we tried the blackberry cobbler and the peach shortcake parfait, and all we can say is don't skip desert! Overall, we thought the food was fantastic.
Other desserts included homemade apple cake, white chocolate and raspberry bread pudding or raspberry lemon pie. There are really great options available every day at the Wild Plum Tea Room, and the changing menu makes it a lot of fun to see what's available. It's posted outside, so you can check the menu while you're waiting.
Remember to check the hours, as they vary according to season. They are open from 11:00 am until 3:00 pm., March to mid-December. In the off season, the Tea Room has reduced hours. The restaurant gets busy, so I would advise to go early. Keep in mind and plan accordingly because the Tea Room is open for lunch only.
By the time we left at 1:00 pm, all the tables were filled! We loved the Wild Plum Tea Room, and will try to make a lunch here a part of our Gatlinburg trips in the future. The food, atmosphere, and service are excellent, making it well worth a visit. It might be a little bit hard to find at first but it's a wonderful place to spend a little time and get a fresh, tasty lunch in the middle of your day. Plus when your finished there are some really cute shops nearby for a nice stroll.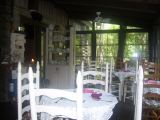 We recommend the Wild Plum Tea Room as a nice place for a couples lunch, or for people who enjoy this kind of atmosphere. You can also purchase additional wild plum muffins and teacup ornaments, which will be carefully wrapped for transport. And you wouldn't believe this but all the recipes we ate and drank can be found in a darling cookbook they offer for sale to their customers. This is by far, how I would love to eat everyday and, now I can! It is worth the drive if your in the area and still worth the drive if your a hundred miles away!
Contact Information
Wild Plum Tea Room
555 Buckhorn
Gatlinburg, TN 37738
865-436-3808
Map Location
Online Ticket & Reservation Window
To help with your vacation planning we have access to hundreds of Pigeon Forge & Gatlinburg area discounts for attractions, lodging and shows. We understand that traveling or vacationing in popular tourist areas can be slightly more expensive. We hope you find this to be helpful with your vacation budgeting.
For convenience, we offer these travel services to give our readers the option to pre purchase
Instant Reservation Tickets
before ever leaving home. It's now so easy to buy your tickets online & simply print them on your home computer. And when you purchase in advance, you will frequently receive additional price discounts. Plus, you can skip the reservation desk and go straight to the front of the line with your reservation voucher.
Reserve Direct
-
Attraction Tickets
- How to reserve Pigeon Forge area fun attractions online.
Reserve Direct
-
Show Tickets
- How to reserve Pigeon Forge area show tickets online.
Reserve Direct
-
Lodging Reservations
- How to reserve Pigeon Forge area lodging online.
When you arrive at your destination, your E-Ticket reservation vouchers will be exchanged for your selected theater show, attraction or lodging preference. It's similar to how the major airlines handle online ticketing. The benefit of using E-Ticket reservation vouchers is that you can always reprint them from this website if they are misplaced by a simple login to your account - click on orders - and reprint.
Wild Plum Tea Room to Gatlinburg Restaurants
Wild Plum Tea Room to Pigeon Forge Vacations