Cades Cove Tennessee
"My Favorite Destination in the Smokies"
Cades Cove Tennessee is the single most popular destination for visitors to the Great Smoky Mountains National Park. It alone attracts over two million visitors a year and for good reason. Cades Cove is a lush green 6,800 acre valley surrounded by mountain peaks that reach 5,500 feet. Making it an idyllic setting for everything the Great Smoky National Park has to offer its visitors. This is a very unique valley surrounded by plush forests and is very possibly the leading area where visitors can go back in time and visit a wide array of historic buildings dating back to the late 19th and early 20th century.
This peaceful destination offers scenic mountain views, abundant chances to view wildlife and well preserved examples of interesting historical buildings. These include a grist mill, a variety of barns, several churches a great collection of log homes and pioneer buildings offering the history of its early inhabitants.
To view the area there's a one way, eleven mile road loop that goes in and around the Cove. Cades Cove Loop Road is open all year from sunrise until sunset. There are about ten stops along the route, with parking available at each. If you decide to come up here during tourist season, make sure you have plenty of time and that you decide to go in early. Traffic can be heavy during the tourist season in summer and fall and on weekends year-round. You should plan to take several hours when things are busy.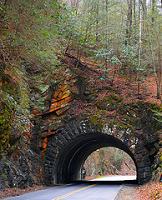 Fortunately, it's a great place to take a leisurely drive, and it's open most of the time. Just remember that the area is closed in the early morning hours on Wednesday and Saturdays for bicycling and hiking. Also - remember to be polite to other drivers as there is a lot to see. If you want to stop and look at something, pull off and do it, rather than slowing everything up. The visitor center is open daily with restrooms and the Cable Mill historic area are located half-way around the loop road. If you need a break or if you want to cut your trip short, there are some through streets connecting the sides of the loop.
We go to the Smokies once or twice each year and always look forward to visiting Cades Cove. It's like stepping back in time a couple hundred years ago. It's a great side trip for us because we love the outdoors, the history of the area, the animal sightings, the peaceful drive, and of course the mountains!
We recently went in September. There's a lot of wildlife to see, including black bears, deer, turkeys, foxes and all kinds of other animals, including wolves. We even saw a mother bear with her cubs when we went, and there are a lot of deer. Around noon we stopped by a beautiful stream to enjoy a picnic lunch. It had to be one of the most relaxing places on earth.
"Authentic History"
On this trip we did make a few stops to tour. First was the primitive Baptist Church, built in 1827. You drive down a little un-paved road to see this church tucked about 1/4 mile or so off the loop. You can walk right inside the old church and take a look around. We also stopped at what was the homestead of Elijah Oliver. You can't see the cabin from the road. So we made the short hike on a path cut in to the historic wood cabin. Well worth the effort to see what an authentic pioneer cabin looked like. A little further down the road we crossed an old wooden bridge with a really pretty stream. We also stopped at the Tipton homestead that was build in the 1870's.
Here is a list of buildings available to tour:
John Oliver Cabin
Primitive Baptist Church
Cades Cove Methodist Church
Cades Cove Missionary Baptist Church
Myers Barn
Elijah Oliver Place
John Cable Grist Mill
Becky Cable House
Henry Whitehead Cabin
Dan Lawson Place
Tipton Place
Carter Shields Cabin
Hiking Trails
People planning to take day hikes do not need reservations. Park Rangers would advise hikers of Cades Cove to bring a trail map, good hiking shoes, some high energy food, flashlight, whistle, knife, first aid kit, extra clothing, matches, water, raingear, and a compass. Hey, it's a national forest out there. Be prepared! You can purchase a map at the visitors center.
Enclosed is a list of hiking trails:
Abrams Falls
Ace Gap
Anthony Creek Trail
Beard Cane
Bote Mountain
Cades Cove Nature Trail
Cane Creek
Cooper Road
Crib Gap Trail
Gregory Bald Hiking Trail
Gregory Ridge Hiking Trail Hannah Mountain
Hatcher Mountain
Indian Grave Gap
Little Bottoms
Rabbit Creek Hiking Trail
Rich Mountain Loop Trail
Rich Mountain Trail
Rich Mountain Trail Alternatives
Left on Indian Gap Trail
Right on Indian Gap Trail
Russell Field
Scott Mountain
Wet Bottom
Bicycling
You can also rent bicycles and helmets for a bicycling tour of Cades Cove . Rentals are available from April through October 31 at the store in the Park Campground. You can call the Campground Store at 865-448-9034. You can only use bicycles on the loop road or other paved areas. You may not take your bike off road or on trails.
Smoky Mountain Wildlife
When visiting Cades Cove or any other areas of the Great Smoky Mountain National Park, be sure not to approach any of the wildlife. The Smokies bears are NOT pets, trained bears or well fed zoo animals. They are wild and only come out when they are hungry. Of course park bears appear cute and cuddly, even friendly at times. However, they also are capable of acting with aggression at lightning speed. The bears are most likely to be seen spring through the fall as they become very sleepy in the winter, becoming semi-hibernating.
Bears are commonly sighted in and around Cades Cove. Look for them especially in the morning around their favorite feeding places such as oak or fruit trees, streams and berry patches. Coming to Cades Cove in the evening or morning will increase your chances of seeing Smoky Mountain Black bears. The bears of the Great Smoky Mountain National Park feed in the morning and evening and are most visible to the tourist at that time.
Deer are almost always sighted in the park and observations of many other wildlife, including, wild turkey, fox and many others are possible:
Black Bears
Red Foxes
Gray Foxes
Coyotes
Striped Skunks
Spotted Skunks
Beavers
Raccoons
Red Wolves
River Otter
Mink
Chipmunks
Grey Squirrels
Red Squirrels
Fox Squirrels
Flying Squirrels
Woodchucks
Groundhogs
Cottontail Rabbits
White-Tailed Deer
Elk
Wild Boar
Snakes
Flying Barred Owls
Wild Turkeys
200 Species of Birds
Top Ten Tips
Tip: It's Free and it's something you'll never forget.
Tip: I would recommend going early in the morning except Wednesday and Saturday mornings when it is closed for bicyclists.
Tip: At the entrance to the loop there's pavilion where you pick up a brochure about Cades Cove.
Tip: Make sure you have a full tank of gas.
Tip: Pack a picnic lunch and make a day.
Tip: Take a cooler and pack drinks and snacks.
Tip: The animals like to come out early a.m. hours to eat and then again late in the evening.
Tip: Take a camera! The mountains provide beautiful scenery for a wonderful family photo.
Tip: Take binoculars! Look for the bears and deer along the tree lines.
Tip: Have Fun
If you're going to be near Gatlinburg, you have to take a little while to go up into the park and visit Cades Cove. There's something for just about everybody, from nature lovers to amateur historians, and you'll be amazed by all the beautiful natural scenery. The views are amazing in my opinion with the large field surrounded by tall mountains have to be seen to be really appreciated. There is just something special about this place and the peacefulness you feel when you are here. It is one of those places that you never forget.
Online Ticket & Reservation Window
To help with your vacation planning we have access to hundreds of Pigeon Forge & Gatlinburg area discounts for attractions, lodging and shows. We understand that traveling or vacationing in popular tourist areas can be slightly more expensive. We hope you find this to be helpful with your vacation budgeting.
For convenience, we offer these travel services to give our readers the option to pre purchase
Instant Reservation Tickets
before ever leaving home. It's now so easy to buy your tickets online & simply print them on your home computer. And when you purchase in advance, you will frequently receive additional price discounts. Plus, you can skip the reservation desk and go straight to the front of the line with your reservation voucher.
Reserve Direct
-
Attraction Tickets
- How to reserve Pigeon Forge fun attractions online.
Reserve Direct
-
Show Tickets
- How to reserve Pigeon Forge show tickets online.
Reserve Direct
-
Lodging Reservations
- How to reserve Pigeon Forge lodging online.
When you arrive at your destination, your E-Ticket reservation vouchers will be exchanged for your selected theater show, attraction or lodging preference. It's similar to how the major airlines handle online ticketing. The benefit of using E-Ticket reservation vouchers is that you can always reprint them from this website if they are misplaced by a simple login to your account - click on orders - and reprint.
Cades Cove to Pigeon Forge Vacations