Dollywoodcom
Hooray for Dollywood!
Dollywoodcom is widely considered the main attraction of Pigeon Forge and is, without question, one of the most popular vacation destinations in America. For decades, Americans have traveled to Tennessee's Smoky Mountains to enjoy their natural beauty, their unique environment, and their solitude. Today, you'll find not just peace and quiet, but also fun, glamour and excitement in a more people-oriented setting.
True to its name, Dollywoodcom is owned by music legend Dolly Parton. This unique amusement park attraction was created to express her vision and love for her home of Pigeon Forge. It is certainly not your run of the mill theme park. Sure…it has all the thrill rides that are standard in most of the popular parks these days. However, Dollywood is much more than that. It uniquely blend the amusements with the live venues of authentic Smoky Mountains traditions. Master craftsmen demonstrate centuries old trades including blacksmiths, glass blowing, wood carving and more. The musical entertainment showcases the best in country, bluegrass, mountain and gospel music with several stage shows. Dollywood has a very distinctive culture blended into the theme of the park itself that appeals to people of all ages. It's the feeling of a simpler time that gives Dollywoodcom its real appeal.
Hello Dolly!
It would be challenging to plan a family trip to the area without including a day at Dollywoodcom. We planned to pick a nice overcast day, on a weekday hoping to miss the big weekend crowds. So on a Wednesday last summer the Sharp Family decided to spend the day and share our experience. Upon walking in, we glanced at the park map and noticed the huge variety of rides and attractions, and how everything is laid out in ten different areas.
Dollywoodcom is organized to reflect parts of Dolly Parton's life growing up. The ten themed areas are Showstreet, Rivertown Junction, Craftsmen's Valley, Village, Country Fair, Timber Canyon, the New Wilderness Pass, and Jukebox Junction, all reflecting the different realities and cultures of country Tennessee, and Dreamland Forest and Adventures in Imagination which reflect Dolly's rich childhood storytelling tradition and her imaginary life.
*Adventures in Imagination - Dolly Parton Chasing Rainbows museum, imagination theatre and Dollywoodcom reservation center.
*Country Fair - Midway and children's ride area, with classic county-fair style rides interspersed with toddler-friendly rides like the Amazing Flying Elephants and Piggy Parade.
*Craftsmen's Valley - Arts and crafts found in the imagination rich Appalachians: quilting, woodworking, music, even theatre. Roller coasters and a water flume ride are also featured in this area.
*Dreamland Forest - A magical version of a forest, where every animal is your friend and berries lie around every rock. You'll find a great children's play area here and the Mountain Sidewinder ride.
*Jukebox Junction - Honors the classic 1950s, when music began to break out of the mountains and onto the radios and jukeboxes. The Pines Theatre here hosts some excellent musical acts.
*Showstreet - Entertainment, performances, and features the Southern Gospel Museum and Hall of Fame.
*Rivertown Junction - Dolly's memories of her childhood hometown, and includes the whitewater rafting ride Smoky Mountain River Rampage as well as a replica of the two-room house Dolly grew up in.
*The Village - Dolly's memories of Pigeon Forge as a child. Alongside plenty of little shops, you'll find the Carousel and the main stop for the Dollywoodcom Express steam train, an authentic coal-fired steam engine that takes you through five gorgeous miles of the Smoky Mountains.
*Timber Canyon - Celebrates the industries that supported the people of the area: mining and timber. The Mystery Mine coaster is here, as well as the Thunderhead coaster and other thrill rides.
*Wilderness Pass - Themed to the time of Davy Crockett and Daniel Boone. The new and exciting River Battle ride is located in the Dollywoodcom along with some unique crafts.
Ride Dolly Ride
So, now you have a general understanding of the ten themed areas of Dollywood. Your next step is to visit either the specific themed areas of personal interest or by the age of your family or group. If you have a family of varying ages or interests you might want to set a home base to re-group during the day. All in all, there are so many rides and attractions within Dollywood it would be a real achievement to see them all in one day. Here's a handy break down based on age groups:
Fun for the Youngest:
Amazing Flying Elephants
Beaver Creek
Beaver Creak Boat Float
Busy Bees
Carousel
Country Fair Games
Dreamland Forest Treehouse
Dreamland Forest
Lemon Twist
Lil' Loggers' Landing
Lucky Ducky
Piggy Parade
Rockin' Roadway
Tiny Tots Playground Area
Wonder Wheel

Fun for Tweens, Teens and More:
Blazing Fury
Daredevil Falls
Demolition Derby
Dizzy Disk
Mountain Slidewinder
Mystery Mine
River Rampage
Scrambler
Shooting Star
Sideshow Spin
Sky Rider
Tennessee Tornado
Timber Tower
Thunderhead
Thunder Road
VeggieTales
Waltzing Swinger

Fun for the Whole Family:
Adventure Mountain
Calico Falls School House
Chasing Rainbows
Country Fair Games
Dollywood Express
Dolly's Home on Wheels
Eagle Mountain Sanctuary
Lumberjack Lifts
River Battle
Robert F. Thomas Chapel
Smoky Mountain Home
Village Carousel
There is definitely something for people of all ages at Dollywoodcom, so no need to worry about
finding things to do. The kids wanted to get to the most popular thrill rides first before the park got too busy. I would recommend this as the park fills up rather quickly, especially during the peak summer season. So we headed directly for the
Timber Canyon
area which is an immediate left after the entrance.
Thunderhead
was first ride on the list and the only wooden rollercoaster in the park. It is a really good ride with fast turns and a nice drop in the beginning. The ride features a 100 foot drop and reaches a top speed of 55 mph.
I would say the ride is geared towards teenagers and adults, so keep that in mind. I would consider this one of the best wooden coasters we have been on. Next we tried the
Timber Tower
. You definitely get a good view of the park from the top of this ride as it goes really high. The next thing you know, the tower actually falls over at an angle and spins you around a few times in kind of a side to side swinging motion. It was quite surprising the first time on the ride and definitely a one of its kind type of ride.
We then went to the Mystery Mine. As the name suggests, the ride leaves you wondering what turn or drop is coming next. It gets pretty dark in the abandoned coal mine, and look out for the 85 foot drop, it comes out of nowhere and does jerk you around a little. It slows down for a while and rotates you upside down on a loop so that you are laying on your back and the car is being pulled straight up into the air for an extra thrill. This ride was awesome! We then moved onto the River Battle and this water raft ride was a blast. Everybody boards a raft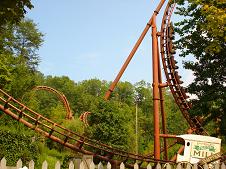 of eight passengers each. The cool things about this ride is that there are several other rafts on the river with you, or should I say against you. Every person on every raft gets to shoot a soaker gun at over 100 different targets including at you, and some of the targets take aim on you as well. But wait, to make it even more fun, other park guests who are not even on the ride itself along the river bank also have soaker guns, so be prepared to get a little wet.
And then it was onto the Tennessee Tornado. This is easily the most thrilling ride at the park. It is the only actual steel roller coaster that Dollywood has and is a pretty smooth ride. As its name suggests, the ride twists around and around, said to reach speeds of 70 mph, and has over a 120 foot drop! Nothing to sneeze at, that's for sure.
The theme of
Blazing Flury
is an out-of-control fire. The scene moves through a dark tunnel with a few hills and curves that has outlooks of a mining town that is burning. Near the end it has a drop where the coaster goes into some water to create a splash that will get you slightly wet. Next up was
Daredevil Falls
. It's the scene of an abandoned logging camp with a boat expedition that takes you over a 60-foot waterfall drop that gets up to a pretty good rate of speed! We rode it more than once. Speaking of getting all wet, we had a blast on the
River Rampage
! White water rafting is one of the most popular activities in the Smoky Mountains area. We rode the rapids more than once and received a well deserved soaking on each trip. Rafting is a lot a fun and would we suggest you put this ride on your to do list.
After the Rampage, we decided to take a walk around the park and check out a few things. We made the walk over to the Village and Country Fair areas of the park. The Country Fair features a lot of the
rides you would see at your local fair. A beautifully painted carousel and gigantic ferris wheel are at the forefront of the fair, and kids will love the
Veggie Tales
spin ride. For a break, we hopped on the
Dollywood Express
. It's a free train ride on real coal fired engine that travels around the park. The original "Klondike Katie" is a genuine Baldwin Steam Locomotive built in 1943. It was built for the US Army and used during WWII to haul troops and lumber on the White Pass Railroad in Alaska. The train uses 5,000 gallons of water, and burns five tons of coal a day and weighs 110 tons. It will give you a few minutes to relax and a chance to view the park from the outside looking in. After we completed the ride we thought it might be a good idea to beat the lunch crowd.
Dolly's in the Kitchen!
The family was getting hungry and it was around lunch time, so we began the food search. We didn't have to search long. Believe me, at Dollywood, there is no shortage of good food. Southern cooking is an art form all its own at Dollywoodcom.
You can choose from full service dining to fast food in locations all throughout the park. We looked at the many options and decided on
Red's Diner
in the
Jukebox Junction
area for lunch. It is a 1950's style diner with your normal diner type menu. The burgers and shakes were huge and delicious, and the price wasn't too bad either. You get a burger, fries, and shake for a reasonable price at a theme park.
After lunch, we wanted to find out a little more about Dollywood. We went to the visitors center and checked out the brochures and pamphlets. We found out that there are festivals and special events inside the theme park all throughout the season:
Kidsfest: usually the last two weeks of June
BBQ and Bluegrass: usually in the month of September
National Music & Harvest Celebration: usually in the month of October
Smoky Mountain Christmas Festival: usually November-December
Parade of Lights: usually November-December

This is jumping a little ahead, but some families "like ours" also stay for dinner. We chose to eat at Aunt Granny's which is an all you can eat buffet where you get everything including your dessert. This restaurant was very good with traditional southern foods like fried chicken, fried catfish, fried chicken, vegetables, mashed potatoes, gravy, corn, biscuits, corn bread and a ton of desserts including ice cream, pies, brownies, strawberry shortcake and more. It was excellent food for a theme park and we ate enough to make sure we would survive on it for a few days.
Restaurants to choose from in Dollywoodcom:
Apple Jack's Sandwich Shop
Aunt Granny's
Backstage Restaurant
Berries 'n' Cream
Crossroads Funnel Cakes
Frosted Nuts
Fury Canteen
Grandstand Cafe
Hickory House BBQ
Kettle Korn
LumberCamp Restaurant
Market Square
Midway Concessions
Mini Melts
Miss Lillian's BBQ Pit
Miss Lillian's Chicken House
Miss Stella's
PaPaw Flat Bread
Pork Rinds
Ranger's Cook House
Red's Diner
Sausage Works
Shaved Ice
Slinter's
Spotlight Bakery
Sugar Mountain Funnel Cakes
Sweet Shoppe Victoria's Pizza
Whistlestop Grill
Village Ice Creamery
Wrong Way Joe's
Dolly's Live!
Like its namesake Dolly Parton, the Dollywoodcom delivers the best in live entertainment. You can see shows that offer country, bluegrass, southern gospel, classic rock and 50's music presented by some of the best in the area. There are always at least three shows going on somewhere in the park at any given time, and impromptu music performances outside in the street could happen anytime. Many guests come to Dollywood's Showstreet area for just this single area of entertainment.
Some people we met earlier in the day recommended the Eagle Mountain Sanctuary. It was truly one of the most amazing highlights of our entire trip. This 30,000 square foot aviary houses the country's largest presentation of bald eagles. We got an extraordinary glimpse of some of natures most impressive birds of prey in this beautiful mountain setting. Another show we really enjoyed was the Professor Seymour Magic Show . He really had some amazing illusions. We also had time to watch the Dreamland Drive-In show that has some young performers singing hits of the '50s and '60s. The doors for many of the indoor shows open 30 minutes prior to showtime. I would recommend getting in line early as they are quite popular and fill up fast during the busy season.
Great American Country Show
Apple Jack
Country Crossroads
Dreamland Drive-In
Gem Tones
Heartsong
James Rogers
Kinfolks Show
Kingdom Heirs
Miss Lillian
Naomi & the Wood Brothers
Professor Seymour Magic Show
Rainmaker
Smoky Mountain String Band
Trapper & Baxter Bear
Wings of America Birds of Prey

Smoky Mountain Craftsman
Not so long ago, the pioneers who settled here in the Smoky Mountains relied on the skills of the area craftsman to create many of life's every day necessities. Thanks to the unique culture of Dollywoodcom you can still watch master craftsmen continue these centuries old traditions with daily demonstrations.
For example you can visit Valley Carriage Works, one of this country's remaining working wagon shops, crafting a variety of authentic wagons. We are not talking about a kid's wagon, we're talking the big wooden spoke wheel, the kind of wagons pulled by horses to haul people and supplies. If you're in the area you will definitely see Dollywood's Grist Mill .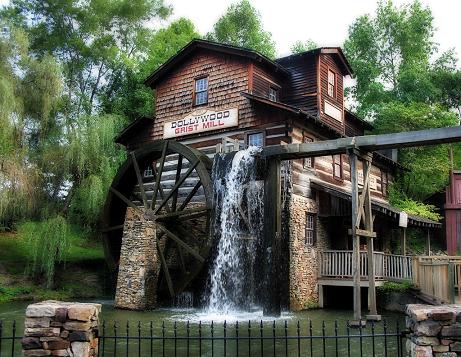 It was built not only to look authentic, it was built exactly as it would have been more than a century ago. All the work was done by Silver Dollar City (what Dollywood was named then), the park's glassblowers made all the window panes, the window frames where made on site using steam power, and the park's blacksmiths made all the hardware on the mill's doors. The giant water wheel is authentic and used today to grind corn and wheat while you're watching. You can actually purchase stone ground meal to take home or simply eat some of the breads and rolls made right on site. The other area I really enjoyed was the Blacksmith & Foundry . It is just amazing to watch those guys work so hard to forge and form steel right before your eyes. There are plenty of other shops to visit for things like hand made wood crafts, hand-blown glass making candy, candles and lye soap being made.
Blacksmith & Foundry
Glassworks
Grist Mill
Valley Carriage Works
Lye Soap
Mountain Slate Works
Old Flames Candles
Rainbow Glass Blowing Factory
Smoky Creek Leather
Sweet Shoppe
Woodcarving Shop

Dolly's Shopper's Paradise!
Wow! Dolly must love to shop! With over 40 shopping locations spread all throughout the park, Dollywoodcom offers everything from specialty apparel and home furnishings to handmade crafts and foods. We did manage to visit a few shops. It looked like one of the main attractions for shopping was the Dollywood Emporium.
It basically shows off the best of all that Dollywood's many unique shops offer. We of course purchased the very necessary but not such a great souvenir chocolate fudge. While we were in Craftsman's Valley we made a stop at the Hillside General Store. The General Store is literally just like stepping back in time. Inside you'll find a selection of old fashioned goods that remind you of an old five and dime store, plus other interesting items such as souvenirs, handmade decorations and much more. Before you depart, just take a few moments to sit on the front porch and let yourself imagine a much simpler place in time.
Ashley's Photorium
A Touch of Ireland
Bat Cart
Be Attitudes
Cas Walker's Store
Company Store
Dolly's Closet
Dollywood Emporium
Hillside General Store
Eagles Nest
Fountains of Living Water
Gazebo Gifts
Huffs Gallery
Liberty
Ole Woodcutter
Outfitters Trading
Pinny Barter's Pin Post
Portrait Artist
Professor Seymour Tricks Magic
Ranger Supplies
Sweetgum Branch Bookstore
Temple's Warehouse and Dry Goods
Uncle Bill's Valley Music Shop
Virginia's Heart & Home
White Water Nature

Top Ten Tips!
Before you go please consider these pre-planning tips for a long, fun day at the water park:
Tip #1 - Check the Dollywood.com website for current information and ticket offers.
Tip #2 - Ride the Trolley to avoid paying for parking. A trolley ride is .50 per person and it will take you right to the entrance.
Tip #3 - Get to Dollywood as early as possible to beat the traffic, have best access to entrance, and avoid the long lines so you can experience the rides as many times as possible.
Tip #4 - When you arrive in the park, head straight for the back, or go to the areas to your left first. It will be a lot less crowded doing the opposite of everyone else.
Tip #5 - If you can go on a weekday, you might find shorter lines and you will be able to enjoy your favorite rides over and over again with less waiting.
Tip #6 - Since you will be there all day, remember to bring sunscreen.
Tip #7 - If you want to avoid lines for lunch, grab something to eat at one of the Dollywood restaurants around 11:00 am or after normal lunch hours.
Tip #8 - It can get really hot and humid in the summer. You can purchase soda drinks to cool down, or as a option you can ask for a cup of water at any food or drink concession in the park for free.
Tip #9 - Bring a disposable waterproof camera for your family pictures! If you bring your family camera bring a plastic bag to zip lock it into. You will likely get wet on one of many water type rides.
Tip #10 - We did rent a locker for the day and it was well worth it. We didn't have to carry everything around with us.
Tip #11 - If it is raining when you leave and your visit is shortened by the rain, you can request a Rain Check at the Season Pass Center.
Tip #12 - Have FUN!!!
Admission Information
Overall, Dollywoodcom is the perfect place to take your family. I can't say enough about how friendly the staff was when we had questions and how clean the park is kept. As I said before, there is something for everyone of all ages, and you will not be bored one bit. You and your family are guaranteed a good time at this park, and you can't put a price on good family fun! Time absolutely flies by when you are in this place.
Before we knew it our day was over. You definitely need two days to truly experience all that the park has to offer. I felt like we got through a lot of the activities, but more likely we probably only got to see half of it. On that note, Dollywood does have special offers for guests who want to make it a two-day experience. After you purchase a one day admission, you have the option of purchasing the next day ticket for a really reasonable rate! As another option I would urge you to consider that Dollywoodcom also offers the next day free if you entered the park after 3 pm. Here are some of the regular season admission options.
One Day Admission
Regular admission (Ages 12 -59)
Children (Ages 4 -11)
Children (Ages 3 & under - FREE)
Seniors (Ages 60+)
Military (with ID) 30% Discount

Season Pass
Regular admission (Ages 12 -59)
Children (Ages 4 -11)
Seniors (Ages 60+)
Military (with ID) 30% Discount
Gold Season

Hours Open
Dollywoodcom is open approximately nine months of the year. The days they are open, the entrance opening time, and the departure time varies. We suggest you check the official Dollywood website for the exact daily schedule.

Parking
There is a fee for parking for all standard length vehicles and little bit extra for oversize length vehicles such as RVs and trailers. Parking is FREE when you purchase a Dollywood Gold Season Pass.

Ride Requirement
Dollywoodcom does have some rides with a minimum height requirement to ensure safety. To determine which rides are available, your child can get a color coded wristband which helps you and your children quickly identify which rides he or she is tall enough to ride. The coded wristbands correspond to the color coded information displayed on signs at each ride in the Park.

Dress Guidelines
Dollywood is family oriented with proper attire required. You know the drill, no shoes no shirt for starters. No clothing with offensive words or images. Bathing suits are OK but must be worn underneath outerwear. All other clothing must be suitable for a family environment.
We hope you enjoy your Dollywoodcom experience as much as we did! Should you need information to plan your trip, or to find the best deals on area entertainment or lodging we have often found Reserve Pigeon Forge to be an excellent resource.
Splash & Play Tickets
Dollywoodcom Theme Park is located right next to Splash Country with the opportunity to double your fun. The parks offer a money saving ticket option to play at both parks for a lower price than purchasing separately. The best deal is that the tickets are good for 3 days and not necessarily consecutive days.
How to Contact
Directions
Off Interstate 40, take Exit 407 toward Gatlinburg / Sevierville / Pigeon Forge. Follow TN Hwy.66 South which becomes US 441. At Traffic Light #8 in Pigeon Forge, turn left and follow the signs to Dollywood.
Dollywood
1020 Dollywood Lane
Pigeon Forge, TN 37863
800-DOLLYWOOD
www.dollywoodspashcountry.com
Map Location
Check out the official website by clicking on Dollywoodcom for more information.
Online Ticket & Reservation Window
To help with your vacation planning we have been given access to hundreds of Pigeon Forge discounts for attractions, lodging and shows. We understand that traveling or vacationing in popular tourist areas can be slightly more expensive. We hope you find this to be helpful with your vacation budgeting.
For convenience, we offer these travel services to give our readers the option to pre purchase Instant Reservation Tickets before ever leaving home. It's now so easy to buy your tickets online & simply print them on your home computer. And when you purchase in advance, you will frequently receive additional price discounts. Plus, you can skip the reservation desk and go straight to the front of the line with your reservation voucher.
Reserve Direct
-
Attraction Tickets
- How to reserve Pigeon Forge fun attractions online.
Reserve Direct
-
Show Tickets
- How to reserve Pigeon Forge show tickets online.
Reserve Direct
-
Lodging Reservations
- How to reserve Pigeon Forge lodging online.
When you arrive at your destination, your E-Ticket reservation vouchers will be exchanged for your selected theater show, attraction or lodging preference. It's similar to how the major airlines handle online ticketing. The benefit of using E-Ticket reservation vouchers is that you can always reprint them from this website if they are misplaced by a simple login to your account - click on orders - and reprint.
Dollywoodcom to Pigeon Forge Vacations
We would like to offer credit for several of the photos on the Dollywood page. They were taken by many other amateur photographers who visited the park. We requested and did receive permission for use of these photos on this website. These photos are protected under copyright laws. Thank you for your generosity!
Darlene @ Luv 2 Flickr
Jared @ jared422 80
Clint @ C.E. Beevers
Rick @ rcvernors
Patrick @ E-Beemy